Larami Corp
Jump to navigation
Jump to search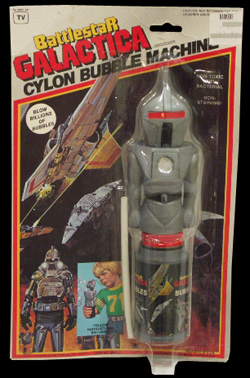 This is a listing of Battlestar Galactica toys made by Larami Corp. Larami Corp is famous for making inexpensive toys whose prices ranged typically between .39 and .99 cents.[1]
Packaging
The cardboard packaging typically showed a Cylon Raider firing laser torpedoes, pictures of Starbuck, Adama, Apollo, and a Cylon, and a Saturn-like planet.
The top left corner usually reads with the toy safety warning, "CAUTION: NOT RECOMMENDED FOR CHILDREN UNDER 3 YEARS OF AGE".
List of toys
Additional pictures
External links
References