Battlestar Galactica (2007 game)
Jump to navigation
Jump to search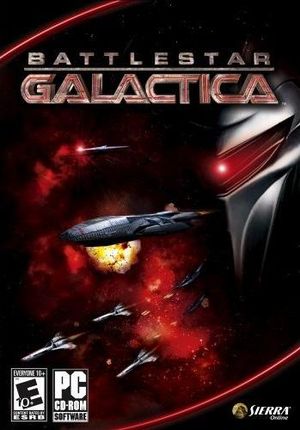 This article discusses the 2007 X-Box 360 and PC game. For the 2003 X-Box and Playstation 2 game, see Battlestar Galactica (2003 game).
The forthcoming Battlestar Galactica arcade game will feature both single and multi-player modes and will allow the player to take part in space battles piloting for either the humans or Cylon forces. Notable ships from the popular television show will be featured as well as key battles from the first two seasons of the show and new content created specifically for the game. Battlestar Galactica for the PC was released October 16, 2007 while the Xbox Live Arcade version was released on October 24, 2007. [1]
Developer: Auran Games
Publisher: Sierra Online
Genre: Shooter
ESRB Rating: E 10+
Notes
Battlestar Galactica is only available by download from XBox Live Arcade and costs 800 Live points.
A trial version of the PC game is available for download.
Official statements
They never even show them to me. I was appalled to see that it was lambasted in the reviews. I made my displeasure known, and the word got out. There should be a closer consultation in the future. Historically, merchandising, licensing and games were all spun off into different divisions. The companies are trying to integrate them more into the process, but typically, the divisions don't talk to one another and go off and do their own thing. There is still a lot inertia.[2]
External Links
References