Basestar command
From Battlestar Wiki
For information on the chamber where the Original Series' Imperious Leader sits, see Throne room. For the actual command and control center of an Original Series basestar, see Command chamber. For information on the Colonial battlestar counterpart in the Re-imagined Series, see CIC.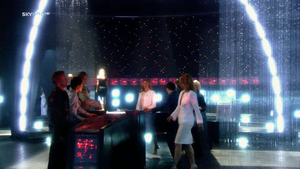 A basestar is commanded by several humanoid Cylons (known on Battlestar Wiki as the basestar command[1]).
This group commands through spoken discussion and eventually, consensus. The commanders issue instruction to their ship's central computer, the Hybrid.
No one humanoid Cylon is the de facto leader. However, personalities which have been more exposed to human contact, such as Caprica-Six (Downloaded), or personalities which are under extreme emotional stress, such as one particular Number Three model (Torn), may be more argumentative and likely to sway consensus.
The basestar has a central command and control center, likely located within the ship's central axis. Most or all of the seven[2] humanoid Cylons stand at a control console that have interfaces for their data ports.[3] The center has many waterfalls and pools that form the basestar's datastream.[4] Other humanoid Cylons of various models attend to business at smaller consoles and other areas of the command center.
Notes
References
de:Basisschiff-Kommando