Battlestar
Jump to navigation
Jump to search

A battlestar is a Colonial capital warship that combines the roles of a space fighter carrier and battleship. Battlestars are the adversarial counterpart to the Cylon basestar.
Battlestars have differing appearances and abilities in both the the Original Series and Re-imagined Series.
General
Galactica
For information on the battlestar Galactica itself:
Original Series
Re-imagined Series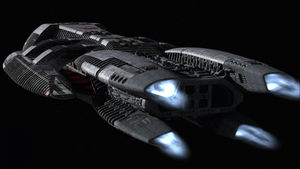 Comic books
Notes
Battlestar Wiki maintains official information on the Battlestar Galactica officially-licensed episodes, movies, and publications only. Fan fiction sources that discuss other ships (particularly fan-based clubs that use ship "names") are not permitted in this wiki.
For more on what constitutes an official source, see Battlestar Wiki:Citation Jihad.
This is a disambiguation page — a navigational aid which lists other pages that might otherwise share the same title.
If an article link referred you here, you might want to go back and fix it to point directly to the intended page. Also, if you wanted to search for the term "Battlestar", click here.