Katee Sackhoff
From Battlestar Wiki
{{{credit}}}
Portrays:
Kara Thrace
Date of Birth:
April 08, 1980
Date of Death:
,
Age:
37
Nationality:
 USA

[{{{site}}} Official Site]

Kathryn Ann Sackhoff, credited as Katee Sackhoff, is an American actress who portrays Kara "Starbuck" Thrace in the Re-imagined Series.
Biographical Notes
Sackhoff was born April 8, 1980 and raised in and around St. Helens, Oregon. She took up swimming and planned to continue with the sport when she got to college, hoping to have a career as a competitive swimmer, but a knee injury ended those plans (just as a knee injury ended her character's plans of being a professional pyramid player). After this, she took up acting when she was 16.
Sackhoff starred opposite Richard Dreyfuss and Marcia Gay Harden in the CBS series, The Education of Max Bickford. On the big screen, she appears in Dimension Films' Halloween: Resurrection. She was also featured in the films My First Mister with Christine Lahti and The Glass House with Diane Lane.
Upon graduating from high school in Portland, Oregon, Sackhoff moved to Los Angeles, where she landed the lead role in the MTV pilot Locust Valley. She went on to star in the Fox Family Channel series The Fearing Mind. Sackhoff's other television credits include a recurring role on MTV's Undressed, guest spots on ER; Zoe, Duncan, Jack & Jane and Chicken Soup for the Soul. She also had a supporting role in the USA Network film Hefner: Unauthorized. She recently appeared in the TV movie How I Married My High School Crush and the films White Noise 2 and The Last Sentinel.
During early production of Season 4, Sackhoff worked with Battlestar alumni Executive Producer David Eick and castmember Mark Sheppard, who played Romo Lampkin, on a reimagined version of Bionic Woman in which Sackhoff played the show's recurring villian, a bionic woman named Sarah Corvus. Conveniently for Sackhoff, Bionic Woman was also filmed in Vancouver -- in fact using the same studio as Battlestar Galactica. A victim of low ratings and the 2007-08 Writers Strike, Bionic Woman was cancelled after less than 10 episodes, with Sackhoff's story arc left unresolved.
According to Ron Moore and David Eick, in the podcast for "Lay Down Your Burdens, Part II", Sackhoff is no longer dating a tackle from the Kansas City Chiefs.
Sackhoff has a dog named "Meatball" and another named Nelly B after her The Education of Max Bickford character, is 5'6" tall, and wears a thumb ring on one of her hands. This piece of jewelry was written into the series and is said to be an engagement ring from Zak Adama. Sackhoff decided to quit smoking when she received fan mail from young girls saying they want to be like "Starbuck" when they grew up.
Sackhoff was reportedly nearly a lock to land the role of Bryce Adams, a character intended to replace Jorja Fox's Sarah Sidle on CSI, as executive producers Carol Mendelsohn and Naren Shankar are huge fans. Executives at CBS and Jerry Bruckheimer Television weren't sold by her reading for the part, however, so she didn't get the role. [1]
In a 2009 interview with Entertainment Weekly, Sackhoff revealed that fan response to her being cast as Starbuck was so intense, she even received a mailed death threat.[2]
Tattoos
Sackhoff has three tattoos. First, she has a crucifix tattoo on her left shoulder blade. As Christianity is not practiced in the Battlestar Galactica universe, it is covered up in the show by bandages in scenes when her skin is exposed (her scene with Anders at the beginning of "The Farm", for example). Since "Unfinished Business" it has been inked over with a large stepped pyramid.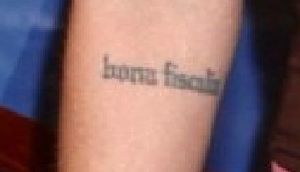 She also has a tattoo of the Chinese character for "choice" on the back of her neck. In Season 1, they usually tried to avoid using camera shots that caught her at that angle, but observant viewers will still notice it. Her hair was longer in Season 2, but when tied in a ponytail, it is nonetheless visible.
Her third tattoo is on the inner side of her right forearm, just below the elbow. It consists of the words "bona fiscalia", which is Latin for "public property". According to Sackhoff, it is a reminder to herself that, by choosing to be an actress, she has chosen to be in the public spotlight and will be regarded as a role model whether she likes it or not.[3] This tattoo is visible in numerous episodes. At the beginning of the show, they tried to avoid showing it, for example by having her tuck her arm slightly behind her back in wide-shot. However, it is still visible on many occasions and, over time, they gave up trying to hide it.
References
de:Katee Sackhoff