Sciography
From Battlestar Wiki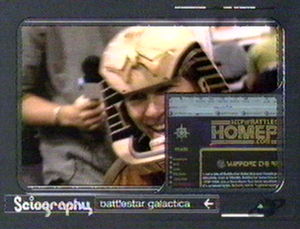 Sciography was a short lived 60 minute documentary series produced by the Sci Fi Channel that chronicled various sci-fi TV shows. The series itself aired only two episodes, the second covering the Don Bellisario series Quantum Leap.
The first episode of Sciography was aired on July 16, 2000 and dedicated to the 1978 Battlestar Galactica.
It starred the following Original Series cast and crew members: Dirk Benedict, John Dykstra, Richard Hatch, Don Bellisario, Glen A. Larson, Anne Lockhart, and Laurette Spang. It also featured commentary from John Kenneth Muir, writer of An Analytical Guide to Television's Battlestar Galactica, as well as commentary from fans—primarily represented by reviewer Scott Mantz who was contentiously billed as "Galactica's #1 Fan".
The show was directed by Andy Schatzberg and written by Herbie Pilato.
Official Statements
Scott Mantz notes that he himself wasn't fond of his billing as "Galactica's #1 fan":
I saved the date [for Sciography's airing], but since I was warned that I might not even be on it, I didn't tell too many people about it. When I sat down to watch the show, I was amazed when my face came up on the screen! That amazement turned to horror when I read the chyron under my face, which read "Galactica's #1 fan!"
Now as we all know, sci fi fans are the most passionate—and the most opinionated—fans in the universe. I knew that they were going to have gripes about the show (as I did), but I didn't realize that they were going to have a field day with the "#1 fan" chyron. I got used to harsh criticism when I was hosting Sci Fi Entertainment, but some of the online postings about my Sciography appearance were downright brutal. I mean, here I was, honored to represent a great TV show, and I didn't get any respect for it.[1]
Mantz also notes that Richard Hatch was "understandably upset over the tabloid nature of the show, and they obviously didn't get their facts straight" during a conversation the day after Sciography aired.[1]
References
External links