Talk:Saga of a Star World
From Battlestar Wiki
Lemure sector?
Where's "Lemure sector" from? -- Joe Beaudoin So say we all - Donate 18:22, 27 December 2006 (CST)
Probably a mishearing of Lianus vector. I don't recall seeing any lemurs in Saga... --Steelviper 07:39, 28 December 2006 (CST)
Problem with credits
I just ran into this: Apparently Stephanie Spruill is not credited on IMDB as the Other Supreme. However, Carolyn Willis and Marti McCall are credited as "Space Angel"s on IMDb. While IMDb isn't exactly the end all, be all for some things, this raises the question of where these names came from in the first place, since none of the Tucanas are credited in the show's on-screen credits themselves.
There's also three additional names on the IMDb listing for this episode that doesn't match up to ours: http://us.imdb.com/title/tt0519749/fullcredits
Thoughts or solutions on how to deal with this issue? -- Joe Beaudoin So say we all - Donate 20:04, 29 December 2006 (CST)
Serpentine
Interstingly, as I rewatched the episode (with subtitles on), I noticed this: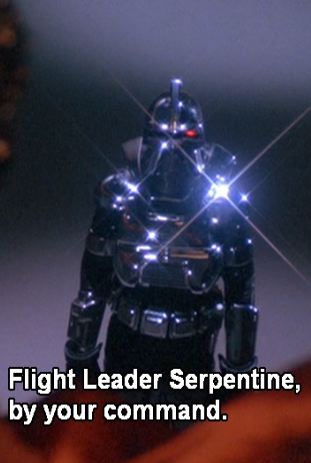 Thoughts? -- Joe Beaudoin So say we all - Donate 20:33, 30 December 2006 (CST)
In addition, as I listened to the dialogue, I could swear I heard "Seprentine" instead of "Seventeen". It would be nice if we could pass this through some form of vocal analysis, like what Peter has done in the past... *cough*hint, hint*hack, cough*. -- Joe Beaudoin So say we all - Donate 16:59, 31 December 2006 (CST)
I agree that I'd like that resolved definitively. If it is "Serpentine", then it might be worth noting in a little article (it's in the BG Concordance). --Steelviper 11:23, 2 January 2007 (CST)

If we had the shooting script, we'd know for certain... The only version of the script I have for this episode is one of the original ones with Skyler, the Beta Triangle, which is massively different from the shooting script. -- Joe Beaudoin So say we all - Donate 16:31, 2 January 2007 (CST)
Unverifiable information
I haven't been able to verify the following entries, and as such have removed them until they can be properly verified. -- Joe Beaudoin So say we all - Donate 18:18, 31 December 2006 (CST)
I found this guide, which was edited (at one time) by John Larocque, which has the uncredited roles above listed. Perhaps we could contact him to find out where he got his info? Or would the fact that he put that list together be enough weight by itself? --Steelviper 11:19, 2 January 2007 (CST)

I would rather find out where he got the info. With that in mind, if we had pictures of these people, we can match them to their roles (sans Ted White, since he was a Centurion). -- Joe Beaudoin So say we all - Donate 15:50, 2 January 2007 (CST)

Well, I think it'd be tough to id the "Other Supreme" as well, though the Dealer (possibly a chore) and the Gemon (the Otori sect woman?) might be possible. I'll search around a bit, but I'll also drop Larocque a line and see if we can link the info back to an official source. --Steelviper 15:59, 2 January 2007 (CST)

I wonder if this is who they mean by the "dealer". --Steelviper 14:26, 3 January 2007 (CST)
Right, because IMDb, right now, lists two actresses as the "Space Angels", in addition to the other two that I've been able to confirm. -- Joe Beaudoin So say we all - Donate 16:11, 2 January 2007 (CST)

Starlog #27 (published October 1979) was my first episode guide reference. Once I had put together a collection of videotapes, I began listing as "uncredited" any name in the episode guide that didn't appear in the beginning and end credits of the episode. That work in separating the lists of names eventually migrated over to the Wiki, where I tagged all the names that didn't appear onscreen as "uncredited" as well. The three Tucana Singers are only listed in Starlog (Myrna Matthews/"Little Supreme", Patty Brooks/"Other Supreme", Stephanie Spruill/"Big Supreme") and the two Ovions (Sandy Gimple, Diane L. Burgrorf), as well as Ted White and John Zenda. Rene Assa's name appeared in a separate source, a British Science fiction guide and I've seen it in a few other places. Poeople place IMDB as a source but their info is only as good as those who entered it in the database. With respect to the Space Supremes (that is how Starlog describes them), it really depends on how rock-solid the uncredited references really are. I personally have confidence in the source, but at the same time, if the name isn't in the official credits, you need to list it as uncredited. There is one other uncredited reference in Starlog - Cathy Paine - whom they claimed was the Voice of CORA in The Long Patrol. Thank you for alerting me to this cast sourcing issue, as I am quite familiar with this side of the equation. --Larocque6689 16:56, 2 January 2007 (CST)

Thanks for the info! Joe, would you feel better if we went straight to the Starlog as the source? Fortunately for us back issues are available. Ten dollars would be a small price to pay for a really freakin' detailed citation... --Steelviper 14:30, 3 January 2007 (CST)

Actually, I do have a few old Starlogs... I'll have to see if I have that particular issue, though. If not, I'll place an order. -- Joe Beaudoin So say we all - Donate 15:50, 3 January 2007 (CST)