United Broadcasting Company
Jump to navigation
Jump to search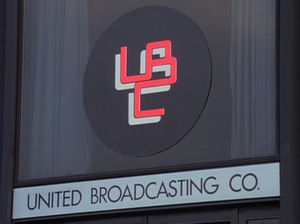 United Broadcasting Company (UBC) is a United States television network on Earth based in California. Its main building is located in Century City, California.
Jamie Hamilton manages to obtain employment with the network as the on-camera news reporter for Instant News, despite her new adventures with the mysterious Troy and Dillon ("Galactica Discovers Earth, Part I", "Galactica Discovers Earth, Part II").
Mr. Brooks is the studio manager. Also employed with UBC is are cameraman named Dave (Galactica Discovers Earth, Part II) and Hal Fredricks (Spaceball), in addition to van driver and sound operator named Al. Also manning Brooks' office is a secretary named Anne (Galactica Discovers Earth, Part I).
Novelization depiction
In the Galactica Discovers Earth novelization, the company is called the United Broadcasting Corporation, and Dana Anderson is its West Coast News Director. Jamie Hamilton initially gets a job at UBC given her connection to Alfred Mortinson and the two "terrorists", having been offered a 3 year contract upon her success of getting an interview with Mortinson[1]; however, after Anderson believes her to be sympathetic to the terrorists, she quits[2] and joins Troy and Dillon in their adventures[3].
Notes
References