List of Warriors
From Battlestar Wiki
For information on the Viper and Raptor pilots found in the Re-imagined Series, see List of pilots.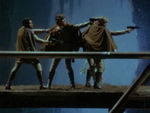 This article is a list of all Colonial Warriors seen in the Original Series.
An inexperienced Warrior is also known as a "first orbit cadet."
Warriors are differentiated from shuttle pilots, which aren't listed here unless they have flown a Viper (this occurred to many female shuttle pilots in the episode, "Lost Planet of the Gods, Part I"). However, most Warriors tend to have the ability to fly any assorted craft.
The few pilots of the spin-off series Galactica 1980 are not shown in this list.
Qualifications legend:
V - Viper qualified pilot
S - Shuttle qualified pilot
Active
Inactive
Deceased
Mentioned Only
Status Unknown
References
↑ Athena is listed as an inactive Warrior since she is seen in a diminished role until "Greetings from Earth", where her last stint is that of a glorified school teacher.